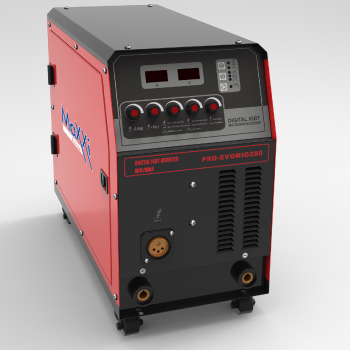 Product Information
The Inverter Mini Portable MIG Welding Machine.
The "Maxxi Korea" Pro-EvoMIG 280F is a New Technologyand Heavy Duty designed MIG welding power source has a broad welding ampere range of 50-280amp. At the weight of 37kgs, Three Phase (380/415volt) and Duty Cycle of 60; it's has more flexibility to take most demanding heavy duty and highest quality job. It designed in slumly Body with container space on top to keep all the using consumables and the external Remote Control Wire Feeder to have more portability on application.
The machine is packed with innovative unique features of fine voltage tunning adjustment and the advance of Constant Voltage Control designed for flexibility of the deference kind of welding applications. The Easy Access control panel at front, it complete with the integration of Welding Voltage and Welding Current Output.
MAXXI KOREA ADVANTAGES
Advanced inverter welding technology for superior arc performance.
85% efficiency low power consumption for energy saving.
The integration of Welding Current and Voltage Output, it provides flexibility to make an adjustment during the application.
Weight at 38kgs, for ultimate portability and durability.
Overload protection for long life of the components.
Manufacturing under an (CE) certificate standard.
Backed by One year Dynaweld manufacturing warranty.
PROCESS
Specifications
| | |
| --- | --- |
| Input Voltage | 380/415Vac ± 15% 3P |
| Input Current | 8.4Kw (12.7A) |
| Output Current | 50-280A |
| Output Voltage | 16.5-33.5Vdc |
| Duty Cycle | 60% |
| Dimension (mm) | 604x295x530 |
| Weight | 37Kgs |
| Welding Wire Size | 0.6-1.2mm |
| Product Code | WM-MIG 280F |
BASIC UNIT INCLUDES
Built in compact Internal wire feeder.
3 meter x MB 24 MIG Torch.
Insulated 3 meter welding cable and 300amp 'Dynaweld' EH-300HD Electrode Holder.
Insulated 3 meter welding cable and 300amp 'Dynaweld' EC-300HD Earth Clamp.
Argon gas regulator
GR-CO2 Dynaweld CO2 Gas Regulator.
EC-300HDSN Dynaweld Heavy Duty Welding Earth Clamp with 3 meter welding cable.
Owner instruction guide.